GOLF Partner, which boasts the world's greatest number of shops, has more purchasing windows than anywhere else. It secures a dominant market share through a more robust stocking of secondhand goods than competitors. In addition, by realizing a product lineup irrespective of new or secondhand goods, it has seen a growing demand from new product users to purchase replacements. This, in turn, has made it possible for it to secure good quality secondhand clubs, such as well-selling latest models and previous year's models. (Approximately 30% of sales comes from new product sales)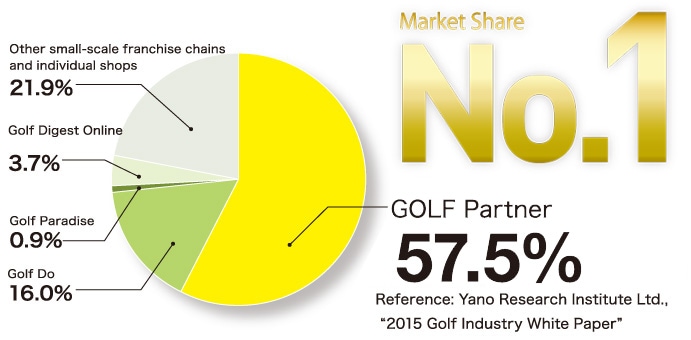 ・Golf clubs purchased at shops throughout Japan are automatically registered in a shared inventory system called Birdie Net
・Big data of all shops is accumulated at the headquarters, and the "reasonable sales price" and "reasonable purchase price" at shops are shared as needed
・This is a one-and-only service that is capable of offering to customers approximately 550,000 clubs in stock from 280 shops, in addition to reducing the risk of carrying a large inventory at one shop.
*Club search screen for customers
Even products that are not in the shop can be searched. Customers can search for the club they want from an inventory of 550,000 clubs. The sales is recorded at the shop where the customer searches for the club and where the order is made.
*Club valuation screen for shopsOnce the club type as well as the condition of damages on each part are checked, the recommended purchase amount can be searched, and the valuation can be done without making customers wait.